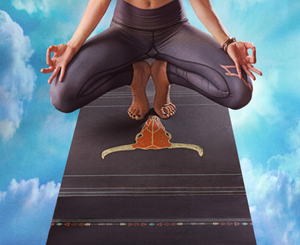 teeki yoga mat - buffalo design 6mm
Why we made this Magical Earth Loving Mat 
Yoga is a beautiful and magical experience. Keeping the mind clear of obstacles is so important as we all know while practicing. But sometimes little things can bother you such as slipping on your mat and not being able to get the grip you need for the pose you are in. While holding a pose with just one foot such as Tree Pose while grounded can be quite a challenge as it is, slipping on your own sweat isn't fun either. We designed this natural rubber mat to help us yogis to grip on to this naturally designed mat just like a gecko. We are able to feel the comfort of this amazing tree rubber and not worry that we are laying on a potentially harmful mat filled with chemicals such as petroleum. At 6mm thick, it also provides us with that comforting feeling that you need so you don't feel as if you are directly on a hard surface, but allows you to still root your energy into the earth. Tree rubber is an eco friendly process that doesn't harm the tree. The tree relieves itself of too much natural occurring rubber that is then collected and then used for many amazing products such as our teeki mat.
~teeki
Why I created this mat
This is literally the best mat ever made on the planet. My body personally has so many injuries. It was important that I made something that felt better to practice on while keeping in mind that it needed to be earth and human friendly.  After 2 longs years this design was complete and I finally got to play on one. My practice is a completely different experience on this mat. In the highest and best way of course. No need to double up mats anymore or feel my knee grinding in the hard ground. It is approximately 5mm thick, and oh so comfortable. It is made from tree rubber and a homeopathic seashell powder. No trees, seashells or sea creatures were ever harmed in the process, and you can breathe easy knowing it is non toxic. 
~Tiffany
Any questions feel free to email tiffany@aweststylestory.com